A Charlie Brown Christmas
had Linus reading from the nativity story in order to combat the commercialism of the Christmas holiday. Charles M. Schulz's Christianity was right there on millions of television screens, a quiet and holy and beautiful answer to Charlie Brown's (our our) holiday depression. It was and is a wonderful thing.
But anyone who has read Schulz's comics knows that he can be satirical and even brutal about religion, especially his own. (I highly recommend his comics created for the Christian magazine
Youth
, a criticism of religion from within its own walls.) The most famous example of this satire is his use of the Great Pumpkin, a holiday deity only believed in by Linus.
One day I'd like to write about every appearance of the Great Pumpkin in the entire run of the comics, but for now the TV special
It's the Great Pumpkin, Charlie Brown
will do.
At the beginning of the special, Linus demonstrates his belief in animism when he is horrified that Lucy has stabbed a pumpkin to death and removed its guts in order to make a jack-o-lantern. ("You didn't tell me you were gonna kill it!") Linus's horror is further explained when we later find out about his belief in the Great Pumpkin, Lucy's now-dead pumpkin being -- presumably -- one of its earthly avatars.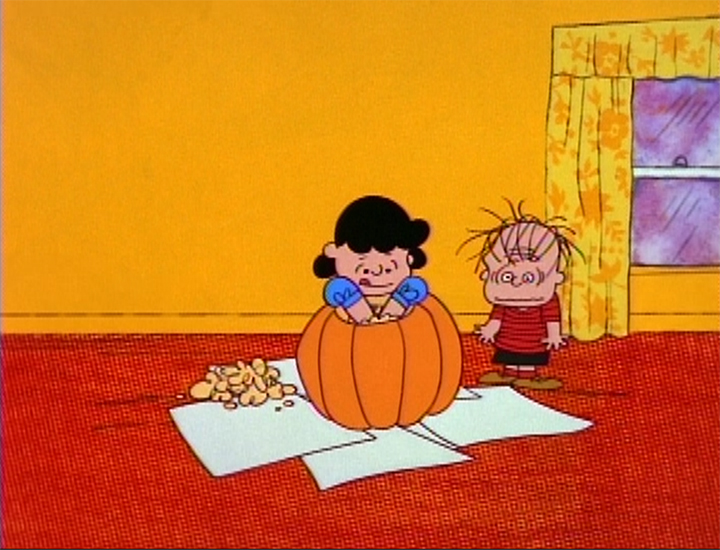 Linus, of course, is already at this point in Peanuts history (this is 1966) known by fans as the religious scholar among the Peanuts characters. His knowledge of the Bible, his overall intelligence, and his generally kind nature makes him one of the more positive characters. But he also clings to a security blanket and sucks his thumb. And, it turns out, he is clueless enough to have somehow conflated Halloween and Christmas, pumpkins and Santa Claus.