Almost ten years ago, I recorded a gospel record. I'd already recorded a Christmas album, a children's album, a re-recording of the entirety of
69 Love Songs
, and an album of songs in the style of other artists, so why not? Gospel songs are the among earliest songs I heard, since it's almost entirely what my folks listened to, so I love those old ones, and some of those are here. But I didn't just want to do the oldies, so I also recorded "gospel" songs by pop artists as well as songs that certainly had nothing to do with God until I declared that they did.
I decided it was time to make the album available for everyone.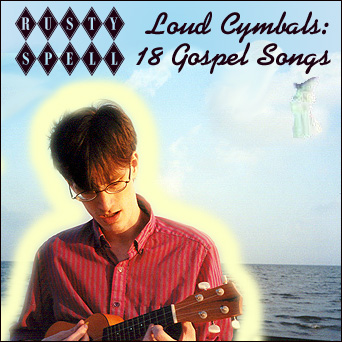 Click album cover to stream all.
1.
I Just Feel Like Something Good Is About To Happen
-- A Bill Gaither song. That
Gaither Homecoming
thing bombarded the TV in the 90s and was truly crappy, so I thought I hated him, but when I was digging around for old gospel songs I liked, two of this turned up, so I guess I don't. I changed the word
brother
to the word
baby
.
2.
Jesus
-- A Velvet Underground song, which gives the album all the cred it needs.
3.
He Touched Me
-- Back to Gaither.
4.
My Sweet Lord
-- A George Harrison song, from his first may-as-well-be-gospel album, and more of a Hindu song than a Christian one, which I like about it. This turned out to be the "hit" of the album, which makes sense as it was track four.
5.
The Man Comes Around
-- This Johnny Cash song was released within the two months that I was recording the album, so it's the newest one on here.
6.
The Holy Ghost Song
-- I don't know who wrote this song. It's an old song about the Holy Ghost, which is the hillbilly way of saying the Holy Spirit, so it's the term I prefer.
7.
Goodbye, World, Goodbye
-- This was the first I recorded for the record, a song by Hovie Lister, and it set the mood for the other songs: non-ironic, but not cheesy, and in my style. This one, which I'd always heard performed as extremely upbeat, was slowed down by me and ended up sounding like a suicide note by someone delusional enough to think they were immediately going to Heaven as soon as the overdose kicked in or whatever.
8.
Jesus, Name Above All Names
-- A song by Naida Hearn, chosen primarily for its prettiness.
9.
Let My Love Open the Door
-- Pete Townshend has lamented that this song about God ends up sounding like a sappy love song. It's a lament I wouldn't have.
10.
To Know Him Is To Love Him
-- A Phil Spector song (recorded by The Teddy Bears) and the first one on the album that certainly had nothing to do with God in the original incarnation, but my mother once had the idea that my sister and I should sing this at church (we never did), so I took her idea for this album.
11.
Hosanna
-- Two Andrew Lloyd Webber songs in one: one from his
Requiem
and the other from
Jesus Christ Superstar
. The latter is still my favorite version of the gospels (probably more than the gospels themselves) and was very influential in my early thought, so Webber (and Tim Rice) fit well here.
12.
Jesus Was An Indie Rocker
-- The first original song on the album, and probably the worst, but what are you gonna do? Sometimes I like the song, and sometimes I think it's flawed, which is why I was hesitant to even write one in the first place. Rather than being a moving or spiritual song, it does what I tend to do, which is bitch. In this case, I'm bitching about religious expectations, personal ones I found myself experiencing.
13.
I Would Die 4 U
-- A Prince and the Revolution song from the equally spiritual and sexy (not that the two are exactly distinct things) album
Purple Rain
, one of the first pieces of art that connected with me in a holy way.
14.
The Halo
-- The second original on the album, an instrumental this time to play it safe (unless you count the non-words I'm singing).
15.
Put Your Hand In The Hand
-- A song by Gene MacLellan, another of the old songs I grew up with, recorded in the most old-fashioned way I could pull off. Includes bottle blow.
16.
Gone
-- I don't know who wrote this song either. I think of my grandmother singing this song when I think of this one, though this version might have been too rocking even for her. I include an excerpt from Neutral Milk Hotel's "The King of Carrot Flowers" in this song.
17.
Two-Headed Boy Part Two
-- A song from my favorite album, Neutral Milk Hotel's
In the Aeroplane Over the Sea
, another song that wasn't necessarily meant as a God song, but I like to think of it as a gospel album. "The King of Carrot Flowers" (featured briefly above) would have been a more obvious choice (the one that screams "I love you, Jesus Christ"), but this one worked better for me.
18.
Randy Described Eternity
-- Certainly a non-God song originally, as recorded by Built To Spill, but they present a view of eternity (using a scenario I'd heard all my life, the one about swiping a giant sphere) that seemed to end the album well. A beautiful lie to the self: "I'm gonna be perfect from now on."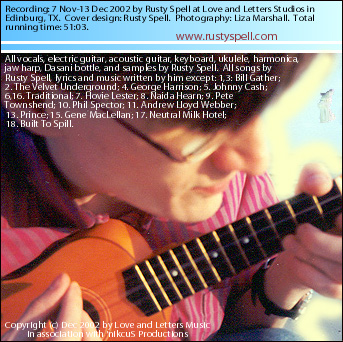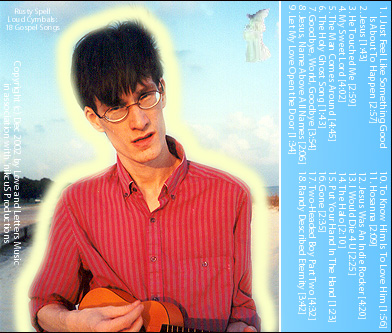 More info about the album, from which you can find more info about my excellent music! It's all been a scam!